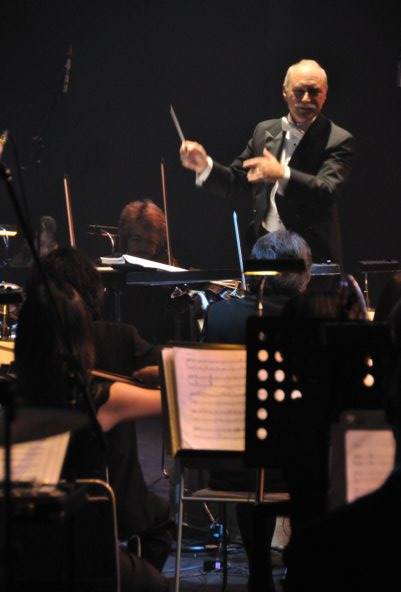 Brad Kelley is a producer, composer, and performer of music for the broadcast and entertainment industries. He is recognized for his extensive work for Theme and Amusement Parks and other location-based entertainment in the U.S., Europe and Asia. His television music is heard throughout the United States and his compositions for the Digital Production Library are heard daily throughout the world. Additional composing credits include award-winning music for Universal Studios, Paramount Parks, McDonalds, Disney, IBM, Mazda, ESPN, Sea World, and Fox Television, as well as hundreds of commercials and television news, movie and promotional themes for network and independent television stations across the United States and Canada.
Since 1985 Brad Kelley has been a leading composer and music producer for Theme Park shows and attractions. Simulator rides, 4-D films, Dark Rides, live theatrical and multimedia shows have all benefitted from musical scores composed and produced by Mr. Kelley. A most recent example of his work can be heard at the acclaimed "Pirates of the Caribbean: The Eye of the Storm" stunt show at Disneyland in Shanghai, China.
Brad specializes in live concert and special-event music direction and conducting. He conducted the orchestra for the Grand Opening Celebration of Sea World of Texas, The 25th Anniversary Celebration at Sea World of California, the groundbreaking and Grand Opening Celebrations for Tokyo Disney Sea, as well as the Grand Opening Gala for Harry Potter World at Universal Studios, Orlando, Florida. He was the music director and conductor for "Disney on Classic" the Japan National Disney orchestra tour for 16 years and 699 concerts in Japan, Taiwan, South Korea, and Singapore. He is presently the music director and MC for Disney World Beat, the Disney Jazz Tour.
He is the author of numerous published collections for chorus, brass, and winds and has served as a guest speaker for the National Academy of Recording Arts and Sciences' "Grammy Sessions" program. His Disney concert arrangements are performed regularly by pops orchestras nationwide.
His busy recording schedule has taken him to London, Nashville, Tokyo, Dallas, Seattle, and Los Angeles where he resides with his family.